English Folk Expo

On the Road to Success
When folk song collector Cecil Sharp arrived in Asheville, North Carolina in July 1916 he was on a mission to seek out the traditional songs of the British Isles that had been forgotten at home. Brought over by colonial settlers in the 17th and 18th centuries, traditional songs and tunes were being kept alive in the mountains in forms that Sharp recognised as close cousins of the music he had collected in England. Like other folk song collectors, Sharp was concerned with preserving a music that he thought was in danger of dying out. As a composer and music teacher he was also aware that the accepted rules of music were based on Austro-Germanic traditions, and wanted to collect and disseminate a more English music for use in the classroom.
TEXT: JIM MORAY
ENGLISCHE WELTMUSIKSZENE
WEBBTIPPS WELTMUSIK:


www.ajholmesandthe
hackneyempire.co.uk


www.amadoudiagne.com


www.cigdemaslan.com


www.cocoslovers.com


www.electricjalaba.com


www.familyatlantica.com


www.fofoulah.com


www.hararemusic.com


www.loschinches.com


www.mavrika.co.uk


www.triotekke.com
CDTIPP
Çigdem Aslan, Mortissa (Asphalt Tango, 2013)
Cocos Lovers, Gold Or Dust (Smuggler's Records, 2013)
Amadou Diagne, Yakar (Waulk Records, 2013)
Family Atlantica, Family Atlantica (Soundway Records, 2013)
A. J. Holmes & The Hackney Empire, Wedding (Moringa Music, 2013)
Simo Lagnawi, Gnawa London (Waulk Records, 2013)
Los Chinches, Fongo (Movimientos Records, 2013)
Mavrika, Mavrika (Psolista Records, 2012)
Trio Tekke, Samas (Eigenverlag, 2012)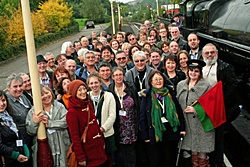 97 years later, and the first English Folk Expo has been held in Bury, outside Manchester, seeking to highlight English traditional music all over again. In the last 30 years English folk music has often been seen as the lesser brother of music from the Celtic nations of Scotland and Ireland. In fact, many members of the British public are unaware that there is any such thing. The amazing success of Riverdance catapulted Irish dancing and music to extraordinary heights throughout the world, and Scotland has similarly used it's traditions as a cultural export to great effect. But England hasn't had the same relationship with it's own history. Although the folk revival of the 1960s and 1970s produced no shortage of specifically English music and lead to a revival in England's national folk dance – the Morris – by the 1980s, it's depiction in the media was generally as the butt of a joke, and the folk scene and it's inhabitants were regarded as laughable eccentrics stuck in the past. It didn't help that the English folk clubs largely ignored punk – a music that was rooted in the same DIY 'music of the people' as folk – and became insular and unwelcoming to newcomers. By the mid 1980s, the folk club scene was looking depleted and threadbare, the festival circuit tired, and the generation who drove the revival drifted away with no new influx of audiences or performers to replace them.

But something was about to happen. In the mid 1990s a new generation of performers began to appear. The children of the original revivalists such as Eliza Carthy and Nancy Kerr, Kate Rusby and Equation were written about in new terms. They were young, good-looking and they had the musical ability to back it up. But despite the influx of new blood, and some major music industry investment (Eliza Carthy and Equation were both signed to major labels in the 1990s), it took till the new decade for English folk music to really make any traction in turning its fortunes around. Seth Lakeman, Spiers and Boden (plus, of course, their big band Bellowhead), and The Unthanks have all received significant radio airplay, awards nominations and tv exposure, and mainstream acts with one foot in the folk world have redefined the word to have cooler, more desirable connotations.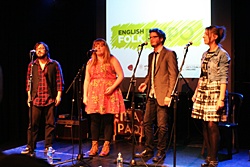 Over the third weekend in October, English Folk Expo was attended by over 100 delegates from 16 different countries. These music buyers came from some of the biggest festivals, events and venues in the world, some on their first visit to the UK. While the British industry was well represented at the conference there was also a good contingent from Canada and Australia (both good markets with related traditional music to England), Germany, Sweden, The Netherlands, Portugal, and Malaysia.

WEBBTIPPS FOLK:


www.bellahardy.com


www.bellowhead.co.uk


www.chriswoodmusic.co.uk


www.eliza-carthy.com


www.emilyportman.co.uk


www.jackieoates.co.uk


www.jimmoray.co.uk


www.jonboden.com


www.katerusby.com


www.ladymaisery.com


www.lisaknapp.co.uk


www.noahandthewhale.com


www.ohooleyandtidow.com


www.oliviachaney.net


www.samcartermusic.co.uk


www.sethlakeman.co.uk


www.spiromusic.com


www.thefishermansfriends.com


www.thestaves.com


www.the-unthanks.com

CDTIPP FOLK:
Bellowhead, Broadside (Navigator, 2012)
Jon Boden, Songs From The Floodplain (Navigator, 2009)
Sam Carter, The No Testament (Captain Records, 2012)
Eliza Carthy, Anglicana (Topic Records, 2002)
Fisherman's Friends, Sailing At Eight Bells (Simon & Schuster, 2011)
Bella Hardy, Battleplan (Noe Records, 2013)
Lisa Knapp, Hidden Seam (Navigator, 2013)
Lady Maisery, Mayday (Rootbeat, 2013)
Seth Lakeman, Hearts And Minds (India/Rough Trade, 2010)
Jim Moray, Sweet England (Niblick Is A Giraffe, 2003)
Noah And The Whale, Heart Of Nowhere (Mercury/Universal, 2013)
Jackie Oates, Saturnine (ECC Records, 2011)
Belinda O'Hooley & Heidi Tidow, The Fragile (No Masters, 2012)
Emily Portman, The Glamoury (Furrow Records, 2010)
Kate Rusby, Little Lights (Pure Records, 2001)
Spiro, Kaleidophonica (Real World Records, 2012)
The Staves, Dead & Born & Grown (Atlantic Records, 2012)
The Unthanks, Songs From The Shipyards (Universal, 2012)
Chris Wood, Handmade Life (R. U. F. Records, 2010)

The attendees were able to see showcases by 31 of the leading names in the genre in venues around Bury ranging from a showcase in nearby Ramsbottom brewery by newcomers Josienne Clarke and Ben Walker to big names such as Kate Rusby and Seth Lakeman playing in the 800 capacity drill hall. The majority of the concerts were open to the public through a partner festival – Homegrown –, and many shows were sold out with the new audience that has built over the last fifteen years. The programme highlighted just how diverse traditionally-based folk has become, from a cappella harmony singing to sets of full electronic treatments of ancient ballads.

It is a significant moment to take traditionally-based music to the world stage. 'Folk' as a genre has a higher profile than it's ever had thanks to acts such as Mumford and Sons, Frank Turner, Laura Marling and Ed Sheeran. These people might not play (or even be aware of) any traditional songs rooted in England, but they do represent a shift in the public taste from the general to the personal. It is as if the general population have grown tired of being shouted at en masse by Bono or Chris Martin and are searching for music that feels like a one-on-one conversation, something that folk in it's loosest form can provide. But what is missing is the sense of continuity and history – the authority of singing something honed through many generations' experiences outside your own. Nonetheless the media fascination with folk and musical authenticity provides a huge opportunity to raise awareness of the huge resource of traditional music that is more accessible than ever before.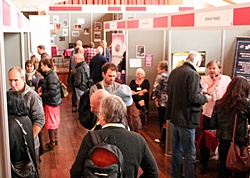 The English Folk Dance and Song Society was founded in 1932 and has been central to English traditional music and dance through two (arguably three) folk revivals. It's headquarters, at Cecil Sharp House in Camden, North London has hosted concerts, ceilidhs, and lectures and is the home of the Vaughan Williams Memorial Library – the most significant collection of British traditional material in the world. In 2008 it appointed a new chief executive, Katy Spicer, and she has done much to modernise and revitalise the society in the last five years.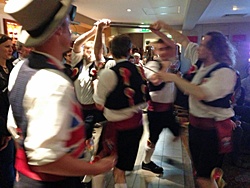 In 2011 the EFDSS was awarded over half a million pounds from the Heritage Lottery Fund to digitise the items in the library, transcribe them and make them freely available to anyone in the world on the internet (www.vwml.org/search/search-full-english), a hugely important step. The Society has also appointed an artist development manager to help create opportunities for emerging folk and traditional artists. And the society has mentored a series of artists in residence and creative fellows, as well as managing artist exchange programmes with equivalent organisations in North America and India. This all-encompassing role as advocate for the traditional arts, sharing the raw material and helping to develop the skills needed to showcase it in its best light (both for aspiring professional artists and for participatory folk traditions) has put the EFDSS back at the core of English trad, and it looks to become more important in the future.

What is needed now are pathways to take this music to bigger stages around the world. English Folk Expo goes a long way to creating these. We have world-class artists playing music that transcends its niche, that has to say something about England and tells people who we are and where we've been. And now, finally, the world seems eager to listen. When Cecil Sharp was worried that traditional music would die out and be forgotten, he needn't have worried. It's all going to be fine.
FOLKER auf Papier
Dieser Artikel ist ein Beispiel aus der Print-Ausgabe!
Bestelle sie Dir! Einfach das


Schnupper-Abo! bestellen und drei Ausgaben preiswert testen. Ohne weitere Verpflichtung!
Oder gleich das


Abo ?
Anzeige

Den FOLKER liest auch: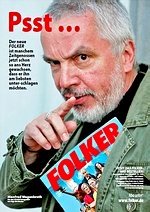 Mit etwas Glück...


...bist Du dabei. Ein Klick auf das hier gezeigte "Ticket" bringt Dich weiter.
Termine online eingeben

Hallo Folker-Freunde!
Wollt ihr uns


Termine zusenden, dann benutzt bitte das Terminportal

Folk-Lied-Weltmusik.
Die

Termine sind auch als RSS Feed zu abonnieren.
Anzeige
Mehr Links zum Thema Folk auf
TOP50